Read our Warranty & Repair policy below: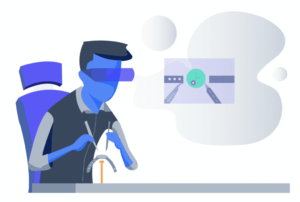 My item is damaged or broken
We will solve that as soon as possible.
Received pass
In most cases you return your item free of charge and we will refund you as soon as possible.
By pass we mean within the trial period. The trial period is 30 days after purchase.
Been in the house for some time
Defects are there to be remedied. If your device no longer works, you can easily contact our repair service via the following link:
https://www.retournen.nl/excitershop
choose to initiate a repair. With some articles, the solution lies in a super simple corner. That's why you see a first-aid-for-faults when you register such an article for repair.
The case is broken upon receipt
Have you just received your product and the cover or packaging is broken… Of course we will send you a new cover or packaging immediately. Please contact our customer service for this. We do not have special metal or cardboard covers, box sets and booklets in stock. You can then return your item free of charge.
Do I have a warranty on my items?
Of course! We guarantee that you will buy an item from Exciter Shop that is in good condition and will continue to work as expected under normal use, this is the legal guarantee. As long as you're only using that hair dryer to dry your hair and not your freshly painted walls, you'll be fine with that regular use.
If not, we look for a good solution.
What is the warranty card for my item?
Your invoice or proof of purchase is also your proof of warranty. We save your invoice in your account when you place your order. That way you will never lose it again. Handy, right?
How long does the warranty apply?
That depends on the article. The warranty we offer you is laid down by law and is geared to the expected life of an item. For example, a refrigerator or washing machine should last longer than a DVD player or travel hairdryer.
The manufacturer's warranty varies by manufacturer. You can see how long it takes in the documentation of your article.
How do I have my item repaired?
Our repair service is always ready for you. We just need a starting gun. You can do that via the handy link 
https://www.retournen.nl/excitershop
How do I ship items such as cameras, laptops and smartphones?
Of course you handle your articles and data with the greatest care. Below you will find important tips for devices on which you store data.
Data backup
Prevent data loss. If you send a laptop, mobile phone, memory card, MP3 player or hard drive, back up your data first.
Exciter Shop does not guarantee that stored data will be preserved during a repair and is not responsible for the preservation of data.
Mobile phone without a SIM card
We cannot repair your phone if the SIM card is still in it. Therefore, send your phone without a SIM card.
Exciter Shop accepts no liability for lost SIM cards or any damage and costs resulting therefrom.
Disable 'Find my phone' function
We cannot repair your phone if the 'find my phone' function is still on.
Privacy
We always guarantee your privacy. Even if your item can no longer be repaired and we recycle it for free. With data carriers such as laptops or mobile phones, we destroy all data so that your privacy is guaranteed.
Update your software
first Always check whether your software is up-to-date. If during the repair it appears that the problem can be solved with a software update or reinstallation, we will charge an investigation fee.
Why has my order been cancelled?
Sometimes we cannot deliver and we have to cancel an order. We never do that without emailing you more information. The most common reasons are:
the stock has run out

the address details are unclear or incorrect

our seller could not confirm your order
You will not automatically receive a new item, but we will ensure that you are refunded quickly. If you haven't paid yet, you don't have to.
How long does the repair take?
As short as possible. We have set ourselves a maximum duration of 15 working days. But of course we aim to be ready much faster. We will keep you informed at every step of the repair.
Out of warranty
If a defect is not covered by the warranty, the repair may take a little longer. We only get started after you have given us permission. We first give you an estimate of the costs so that you can decide what you want to do.
Is a repair free?
We will repair your item free of charge within the warranty conditions and warranty period.
Even outside the warranty conditions, we will not leave you out in the cold. We will repair your item for a fee, but we will first provide an estimate of the costs. Here's how you can decide what you want to do:
have it repaired for a fee

return without repair, after payment of the research costs of 19.95 euros or 60 euros for a repair at home

free recycling